Welcome to the Formula Gravity site
This website is dedicated to the Formula Gravity's gravity racing team project.

Our goal is to inspire students and teachers in the fields of engineering and motorsport.

You are welcome to come and share our vision, stories, photos and more!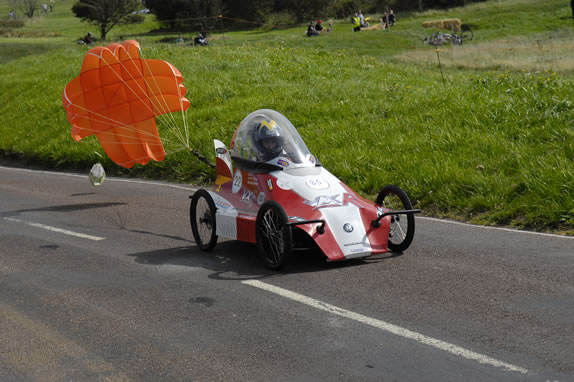 About Formula Gravity and the Sapheria Project
Formula Gravity Ltd is a non-profit making engineering educational provider founded in 2002.
We are trying and succeeding to get students into engineering. In particular with automotive and allied careers. Not only to encourage students into engineering but to raise the expectations and standard needed in the modern world, especially for the UK.
In normal times we sell Gravity Racer kits to schools / colleges , encouraging not only engineering, but also cross curricula disciplines that apply to running a race team.
We are very keen to forge links between the schools and colleges to industry.
We raced at the Goodwood Festival of Speed as VXR for some four years.
In 2008 we got the first World Land Speed Record for gravity racers at Eastbourne, and then got the fastest time ever at the Mumbai Red Bull event.
We were the consulting engineers for the Guy Martin, Guinness World Land Speed Record which we achieved. Also for the channel 5 Gadget Show.
Schools and colleges have used our kits both in the UK and abroad.
This year has not been good for business. So about January I started a special project to hit publicity at about the end of the pandemic.
This project is called
"Sapheria". Click here for more details.
Purchasing A Gravity Racer
Our Gravity Racers are available in either kit form (for project building) or ready built and are now being sold exclusively through Technology Supplies Ltd.
"Technology Supplies Limited has built an enviable reputation over the past 28 years for supplying quality and affordable products to schools and colleges across the UK and abroad, backed up by outstanding customer service and technical / after sales support.
Our success means that we are now a leading supplier to schools and colleges of a much wider range of equipment including tools, materials and resources covering major curriculum areas of Design & Technology, CAD/CAM and Engineering, Textiles, and Food Technology."
Technology Supplies Limited can be contacted via
email
or
web
.
The current Gravity Racer Self Assembly Parts / Price List can be
downloaded here
.
If you have any questions or comments, or if you would like to participate, please contact us.
Advantages of our STEM kit Gravity Racer project
Amazing design - This is F1 without the engine. The running gear is fully adjustable. We conform to the UK and international Tech. Spec for entry into events.
Health and Safety - This is integral to all aspects of the project. We can advise on any queries.
Reusable - Our green friendly kits are designed to be stripped and rebuilt year on year. Including the advantage of 'One payment for Ever'.
Proven track record - Producing racers since 2002. Raced at the Goodwood Festival of Speed as VXR. First World Land Speed 2008. Running gear and consultant engineers for 2016 World Land Speed. Fastest ever run at Mumbai Red Bull.
Over 200 kits produced and distributed Worldwide to schools, colleges and privateers.
Help - We work with each build to help and support.
Our racer kits - Supplied with all the hard stuff done. You need a normal tool kit to assemble. We can supply specialised kits with partially or fully built kits. (bodywork not supplied)
The project creates local and national Community and parent links to funding, school college work experience, local jobs, STEM links, Engineering Ambassadors, Local gravity events.
Also creates increased aspirations levels, school attendance, curriculum links, pride in attainment, inventiveness and builds confidence, team building, engineering techniques, and that education can be fun.
Cross Curricular - Links the skills needed are about obtaining sponsors, designing bodywork materials, aerodynamics, logos and art work to the engineering of constructing the kit. We also encourage a photographic record of the project and build together with an engineering log. Science, English, Maths and Engineering at the forefront. Also, road and driver safety.
Events - Many events across the UK. The organisers are usually extremely helpful to entrants
Our project ticks so many of the skills and knowledge needed for qualifications.
The record also gives a very impressive CV
This project ticks all the green environmentally friendly boxes.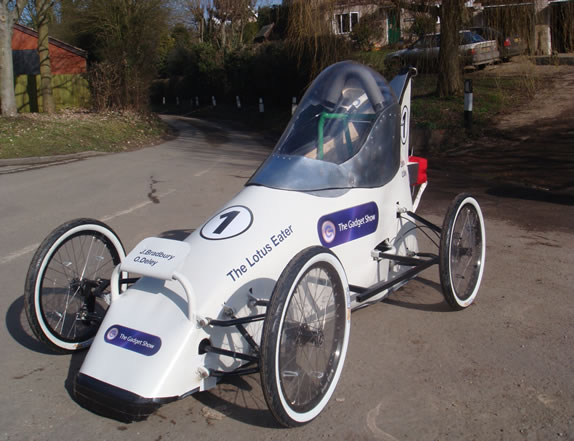 The Sapheria Project has now launched.
Click here
to read the latest Sapheria Newsletter
Click here
for the Sapheria Project objectives
Click here
for the Sapheria Project news