Sapheria Bluebird Project Overview
September 2023 Newsletter

So much has happened since the start of the project. A very quick update.

I decided to build a powered gravity racer from my Formula Gravity spaceframe in 2020. I got a World beating core team with Russel Annison as Designer, Engineer and builder, Matt Sadler as CAD Designer & driver and Adam Rogers joined later, helping all of us.

Over the project some 35 companies and organisations joined us to help. Amazing, the UK is certainly the place for R&D.
We were also joined by Don Wales, who followed our build and decided that we were up to the famous Bluebird standard. The resultant Sapheria Bluebird then seriously took off.

Our concept of an electric / jet turbine hybrid was unique. Guinness agreed. So our sights then went to a Guinness World Record.

After many adventures with the design and build we had a running vehicle. But the most important aspect to us was to mix the old skills of engineering with the latest high tech safely. Safety is always paramount, as it should be in industry. We added a few extra bits like a drogue chute, an onboard fire extinguisher system and many, many other features. We ended up with a rather long Risk Assessment! A great education environment.

The next phase was of course testing. Starting off at a walking pace and slowly increasing speed. Santa Pod Raceways became our home base, and still is. Great atmosphere, great staff. Then, scrutineering passed, we had many trips to the track testing and learning and modifying. Eventually our trip to RAF Elvington to go for a World record with the Straightliners, who were organising the event.

On 21st May 2023 we became the first ever Electric / Jet turbine to achieve 74.19 Km/H. Creating a little bit of Bluebird history. OK not really fast, but safe, and we are the first. Our driver was Matt Sadler. Well done Matt!


Our build was never actually about the speed, rather to do an almost perfect example of varied engineering materials and techniques as a textbook for education and to encourage young people to become interested in all aspects of engineering and the allied professions.

The decibels of our jet certainly demands everyone's attention. We have also been on stands at the Goodwood Festival of Speed with Bluebird, West Suffolk College events, Silverstone with Castrol and then the vehicle spent a lot of its time in the window of A Plan Insurance in Bury St Edmunds attracting attention.
It is also nice that some of our helping companies said how nice to retrain some staff in the old skills.

Now covid is over we are starting to deliver STEM to schools and colleges. Already college lectures have started with inquiries starting to come in. Video links to schools in South Wales have been a success and links with our local college in Bury St Edmunds will result in more than just engineering, but also cross curricular links.
Spin offs include helping the local hospital run the local Soapbox event. We made £23,000 for cancer counselling. So a good start there.

Where next? The team are already thinking about the fact that the Sapheria was not built for speed. With a team that has already proved itself many times before what do you really expect. (This is not our first Guinness World Land Speed Record. We do have others.) The latest materials and designs of F1 are certainly of interest. Watch this space!

Education could not have a better text book. Get in touch if interested.

Our record run with Straightliners RAF Elvington Record Speed Week



So a little bit of history already. A national museum has already asked us for a chance to be the Sapheria Bluebird's final resting place which will help to continually educate.

The team will take away a heightened idea of kindness from a very go ahead British industry, and an enhanced knowledge of engineering.
Interestingly we only had money for parts, no one made a profit.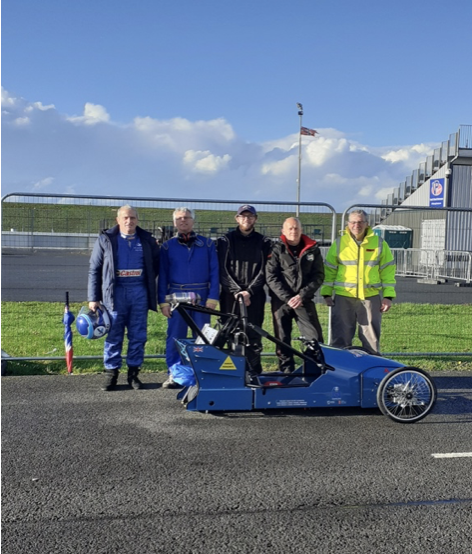 Don, Russ, Matt, Adam and myself
At Santa Pod Raceways

Sapheria Bluebird News
June 2023
Record Edition

So much has happened with the project in recent months.
Firstly I would like to thank our sponsors. Mainly it was a leap of blind faith they took. I am so pleased to report that we have succeeded.
The Sapheria Bluebird has done well.
We have adopted Santa Pod as our home track. During runs we have analysed performance and changed many parts and settings.
So on the 21st of May 2023 we ran at RAF Elvington during the UK and ITA International Speed Week run by Straightliners.
Six full runs down a near perfect track. And proper UK timing systems set up.
Scrutineering was strict, we passed and were pleased with their comments about out design and build.
Matt Sadler our CAD designer and driver managed to get in six runs. The second was our best of the day. Slight headwind, emphasising aerodynamics.
So our official results were setting the first World Land Speed Record ever for an electric / jet turbine vehicle at 46.932 mph or 75.530kph.
A great result. We have drawn the line in the sand.
Interestingly at Santa Pod ten days later we clocked 54.6 mph, but that was using our own on board speed recording and we had a fair tail wind. So no count!
Our aerodynamics are bad, we know why but this is a prototype of systems.
We expect to be back at Santa Pod on July 15th. Hope to see you there.
Education and the Sapheria is now really starting to take off. Interest is certainly building. Our own base at west Suffolk College is in exams at the moment, but we expect to join in fully in the new academic year.
At any event that we visit we have a constant stream of curious spectators wanting to know more.
A school in Wales has set up a video link with some five feeder schools so we can explain about our project and engineering careers by talking to pupils.
Colleges and schools are wanting talks, and not forgetting the many companies who are helping the project have mature and apprentice learners.
We are at Brooklands museum twice in the autumn for schools events.
More details nearer the time.
Demonstrations, talks, events, and video links all on offer.
STEM and allied careers all covered.
We shall be on the Castrol Stand at Silverstone.
https://www.silverstone.co.uk/events/silverstone-festival

Our record run at Straightliners RAF Elvington Record Speed Week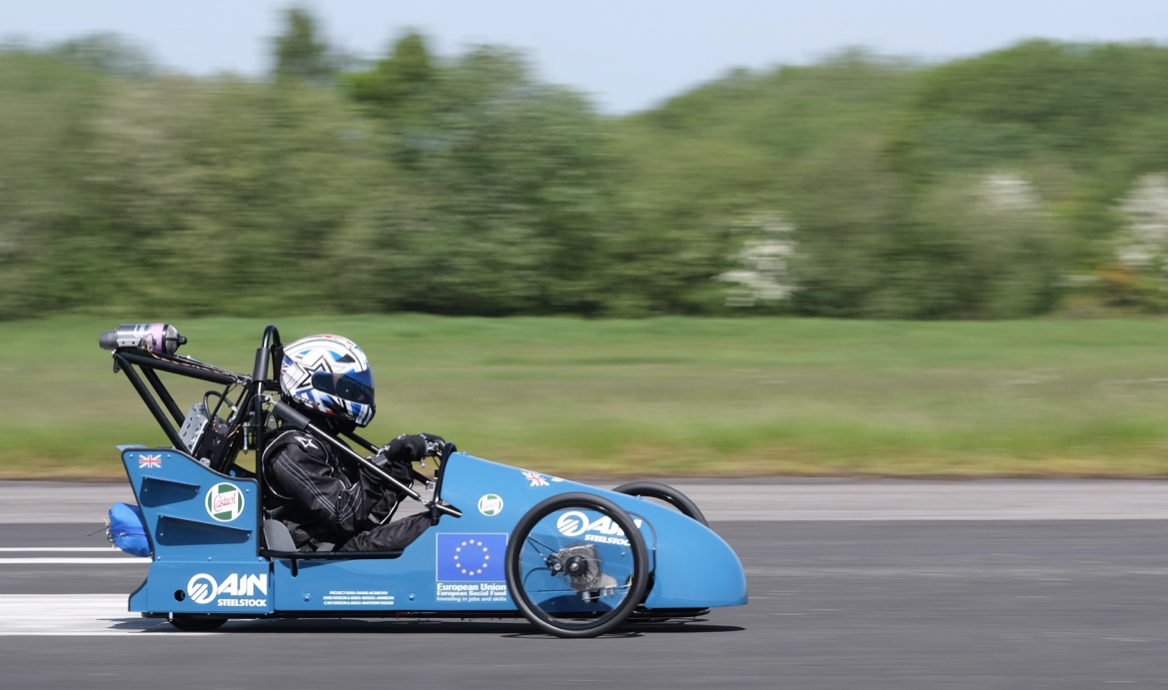 So a last thought:- How to have a green Blue bird?
So get a Gravity racer which is completely green. Put in an electric motor. Still green. Add a Jet Turbine. Not so good. It is the fuel we use. But technology is progressing. These engines will be with us a long time yet in aircraft.
So Powered Hydrogen instead of jet fuel? Industry has had some success.
Rolls Royce tested the new generation jet last week, great success.
If we can train the next generation of engineers we all stand a hope.
Sapheria Bluebird News
January 2023
Happy 2023 to everyone.

The Sapheria project started about two years ago as a concept.

As with these projects you start, and are not quite sure where it will go.

The best you can do is to get the best and do the best. Our team got the most amazing companies and people involved. Thank you all.

The Bluebird Sapheria now exists and is running. The World's first electric / jet turbine, three wheeled, hybrid vehicle. Built on our own gravity racer spaceframe. Together with it's own drogue chute and on board fire extinguisher.

Last year we finished the CAD design and the build.

With quite a few test runs already under our belt we concluded the year running at Santa Pod Raceways.
A great venue which we will certainly attend again this year.

The team were all there, our special driver Don Wales (Sir Malcolm Campbell's grandson), Russ, Matt, Adam and myself.
Rain did stop play, but we did get in two serious test runs achieving about 40mph. Not fast, but we are not looking for great speed yet.
A good learning experience for the end of the season.

We were also at the 2022 Goodwood Festival of Speed on the Bluebird stand. A great honour to have Gina Campbell sitting in the driver's seat.
Yes she loved the vehicle.

Brooklands Museum is firmly in our sights as one of our venues this year.

Over this winter the Bluebird Sapheria has been on show in the vast window of A-Plan Insurance at Cornhill in Bury St Edmunds. They have welcomed a steady stream of interested visitors.

This year we are starting to make plans to show and run the vehicle around the country at different events. As well as running the vehicle and enjoying the fun we are also offering STEM lectures and talks to enhance STEM to young people. Our fame reached Loughborough College who requested a lecture.

Education is our main objective. Nice if education was always this much fun.

It is of note that our team of experts are also learning as we go. After learning more at our run at Santa Pod Raceways we decided to modify the steering system. Using CAD this will not take long.

This year we will start to build up events, shows and STEM events.

A World Land Speed Record is definitely on the books.

The Guinness Book Of Records has agreed that the Sapheria is a unique vehicle.

So any World Land Speed Record for us is drawing a line in the sand.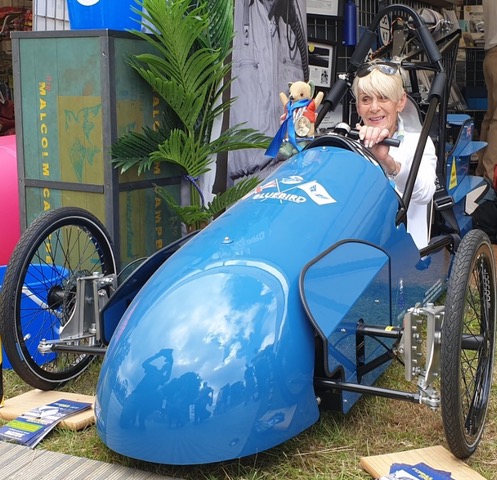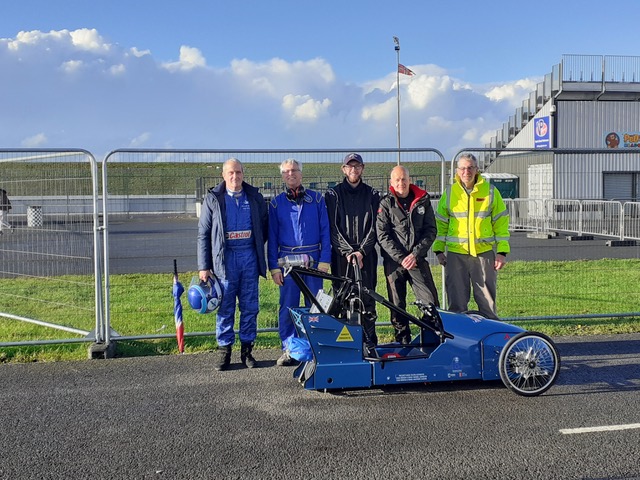 Sapheria Bluebird News
Goodwood Festival of Speed Edition
June 2022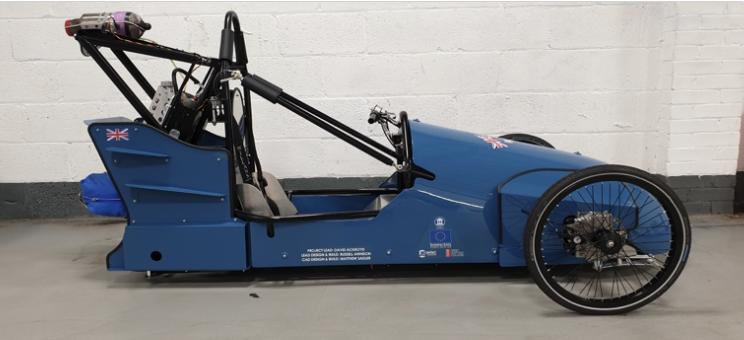 We finally finished the Sapheria Bluebird with logos yesterday, so we are now ready for the Goodwood Festival of Speed23rd - 26th June. We are on the Bluebird, Ruskin Museum Stand 108.

We started with the design of our VXR GFoS soapbox which we ran at the Goodwood Festival for four years. The project was to power it. I think we have succeeded rather well!




We have made some changes. We go from four wheels to three (are we a trike?) We added a Jetcat 160 RXIB jet turbine which has 16,000rpm max thrust and exhaust velocity of 1590 Km/hr at 650 deg. Celsius. Plus an E Tek 200mm pancake electric DC motor at 1730 rpm.

The idea being that we can run both and when the electric motor is at full speed the jet can take over. This makes the dashboard a bit interesting.

Our core team with Russ Annison and Matt Sadler have worked with some thirty companies to build a most incredible one off CAD designed machine to show off both traditional and the latest high-tech engineering. We have crammed in as many engineering examples as we can. To include design, materials, engineering methods, bodywork, painting techniques, sustainable power trains, electronics, The latest onboard fire extinguisher, even a drogue chute. Safety has of course been paramount. So much more, the list goes on.

We are always asked the question "How fast does it go?"

The answer is, we do not know. Although speed is not our primary interest, we are curious as well. We have conducted trials, but still need a long run to find out.

We must emphasise that the project has been in conjunction with West Suffolk College and is to be used as a teaching, living textbook as well as an example of other aspects of STEM to encourage young people to look into careers and allied careers in engineering and motorsport as well as thinking about new technology for the future.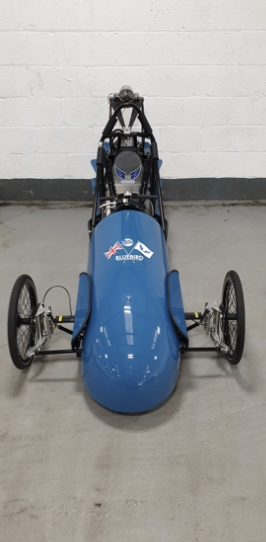 To fire up the Sapheria Bluebird is impressive, with its 92Db at 20m it demands attention. (95 Db is the limit for most F1 race tracks).
I must thank my core team, Russ and Matt for their incredible skills and dedication to the project, together with the help and assistance of some thirty specialised companies we have made this project possible through strange times. Together we have all formed a strong team who during the last eighteen months have made an amazing project snowball to success beyond our initial concept. We have now achieved a standard that has allowed us to join the Bluebird team with our guest driver Don Wales, Grandson of Sir Malcolm Campbell.
Quite something for involved students to put on a CV.
After The Festival the Sapheria Bluebird will be on show on the offices of A-Plan Insurance in Cornhill, Bury St Edmunds. A great venue in the town centre.
From there it will be on show in the main reception of West Suffolk College from the beginning of the Autumn term for all to see.
We are lining up other events and venues now for students to become involved in at all levels, as well as so many cross curricular links that the project offers.
Dare we throw down the Gauntlet for powered soapboxes?
David Ackroyd
Founder Formula Gravity Ltd.
design@recordprojects.com
August 2018

Important Changes Afoot
The sport of Gravity Racing has matured over the last decade. We are now very different from the old concept of 'soapboxes' both in construction and in events.
In a nutshell :- 'Soapboxes' are for fun and amusement of crowds. Great for publicity, as used by Red Bull. Low speed crashes and crunches are part of the spectacle, as are some of the amazing soapbox designs. Most of the contestants do not really expect to complete a course with obstacles and ramps to jump over, but enjoy the fun. Jumping over ramps has now been banned from Gravity Racing as back and spine injuries can and do happen. Hence 'soapbox' events will no longer be advertised on the national Scottishcarties website -
http://scottishcarties.org.uk
. Only 'Gravity Racing' events will now be on the site.
'Gravity Racers' are different. Built from professional standard designs to a National Technical Specification. Safety is the main driving force of the designs. Built in are safety features that would protect the spectators and driver at speed. Drivers also must be equipped with safety gear. All racers are scrutineered and can fail. Our tracks have no jumps or ramps. All H/S documents in place.
I have been involved with Gravity Racers since 2002 and crashes are almost unknown. I have never heard of a serious crash yet, all due to meticulous design and planning of the event and the racer. There are many Olympic sports that use gravity:- skiing, bobsleigh. sledge, ski jumping, skateboard, luge. Although we are not yet on the list our sport is run to that standard.
So to sum up, there is a great difference between a soapbox and a gravity racer, and the difference is growing. We are not soapboxes.
With speed controlled by gentle slopes to run down, school pupils have safely become involved very successfully in engineering and events around the UK.
One of the important differences is also that of insurance for events. We are working with insurance companies to insure safe reasonable gravity racing events. Please contact us for any update that you might like.
Formula Gravity
Just to again state some of our objectives. (Full details on our website.)
We are trying to raise expectations.
We are highlighting STEM subjects.
We are encouraging research methods and invention
We are non-profit making.
We do sell Gravity Racer kits.
We do help.
We do have great success.
Congratulations
To teacher Jamie Williams at Bryn Celynnog School and his team of pupils who have won the prestigious Penarth Downhill 'Under 12 Years' event for the fourth year in a row.
We now have a full team of under 12 engineers and drivers for the fourth year who have achieved. A STEM project to be proud of.
We will put more photos of the event when they become available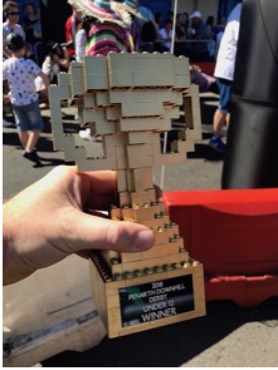 Formula Gravity Race Results
We took our racer to the great Stoke on Trent event. Our result was not as good as the Bryn Celynnog School.
We had two runs. The first was a test run which was good and then for the real run against the clock. I reckoned that we had a chance of doing really well. The run felt fast and the racer performed very well. On the finish line I was hopeful. I was then told of a problem, the timekeeper, who was also a helpful policeman, had had to leave and deliver a baby amongst the spectators. So no result. The course had been changed so no re-run.
Despite our result it was a great day and we did have a good event with lots of friends.
Our other events at Penn House were not interrupted and we were happy with our performance.
So far this year we have had another successful design, build and race season. With the new academic term starting soon we have kits and parts ready to go.
Help & Support
For any help and advice please contact myself or for sales please contact Luke at
Technology Supplies 0845 567 0000
Unsubscribe
If you no longer wish to receive a newsletter and be deleted from our records please use the Contact Form
here
and write 'unsubscribe'.
If you wish to remain on the newsletter list please use the Contact Form
here
and write' remain'.
April 2018

Since Formula Gravity first started in 2002 the gravity-racing scene has really taken off.
I think that the input of excellence set up at the Goodwood Festival of Speed was certainly a huge catalyst. The amazing racers that I first saw racing under incredible tight scrutineering and engineering criteria were to fire the imagination. This helped to kick start the sport and helped allied gravity sports to come into the sporting arena.
To sum this up, is it not time that some of the gravity sports were officially recognised for funding and also Olympic consideration? Skiing and bob sleigh are gravity sports. What is the difference if other vehicles of equal engineering and riding / driving skills are used?
Events

Lots of events now all over the UK. Events are good as they give teams all the local contacts and also you know what you need to build to race.
For events the best lists are on
http://scottishcarties.org.uk
. I have found other event sites, but this one does seem the best. Not all local events are nationally advertised so it is still worth looking locally.
Do check your events early as some events are just for speed and others have obstacles' such as those in the Red Bull events. You might need to design differently.
(We got caught out last year and demolished an obstacle or two. Great fun though)
Sales

We do have racer kits on the shelves ready to go. Just your own bodywork needed.
(We did have one of our racers win an event last year just as the kit skeleton. So you can always put a body on later!)
We do of course sell just parts if that is what you need.
https://www.technologysupplies.co.uk
is the sales team, or you can always chat to me first about the project and I can then put you in touch.
For more ideas and information about how the project can be developed and used in education please look at our website which gives initial ideas and information. If you then wish you can call and chat over the ideas - 01284 830428
Other Things You May Like

You might like to check these out faster things.
Project 'Bloodhound SSC'
www.bloodhoundssc.com
1000mph for Britain
Project Aussie Invader
http://aussieinvader.com/the-challenge/
1000 mph for Australia
Yes, we do seem to have a challenge! Some good info on the websites for pupils.
Last But Not Least
If you no longer wish to receive a newsletter and be deleted from our records please write 'unsubscribe' and reply to this email address. If you wish to remain on the newsletter list please email 'remain' and reply.