August 2018

Important Changes Afoot
The sport of Gravity Racing has matured over the last decade. We are now very different from the old concept of 'soapboxes' both in construction and in events.
In a nutshell :- 'Soapboxes' are for fun and amusement of crowds. Great for publicity, as used by Red Bull. Low speed crashes and crunches are part of the spectacle, as are some of the amazing soapbox designs. Most of the contestants do not really expect to complete a course with obstacles and ramps to jump over, but enjoy the fun. Jumping over ramps has now been banned from Gravity Racing as back and spine injuries can and do happen. Hence 'soapbox' events will no longer be advertised on the national Scottishcarties website -
http://scottishcarties.org.uk
. Only 'Gravity Racing' events will now be on the site.
'Gravity Racers' are different. Built from professional standard designs to a National Technical Specification. Safety is the main driving force of the designs. Built in are safety features that would protect the spectators and driver at speed. Drivers also must be equipped with safety gear. All racers are scrutineered and can fail. Our tracks have no jumps or ramps. All H/S documents in place.
I have been involved with Gravity Racers since 2002 and crashes are almost unknown. I have never heard of a serious crash yet, all due to meticulous design and planning of the event and the racer. There are many Olympic sports that use gravity:- skiing, bobsleigh. sledge, ski jumping, skateboard, luge. Although we are not yet on the list our sport is run to that standard.
So to sum up, there is a great difference between a soapbox and a gravity racer, and the difference is growing. We are not soapboxes.
With speed controlled by gentle slopes to run down, school pupils have safely become involved very successfully in engineering and events around the UK.
One of the important differences is also that of insurance for events. We are working with insurance companies to insure safe reasonable gravity racing events. Please contact us for any update that you might like.
Formula Gravity
Just to again state some of our objectives. (Full details on our website.)
We are trying to raise expectations.
We are highlighting STEM subjects.
We are encouraging research methods and invention
We are non-profit making.
We do sell Gravity Racer kits.
We do help.
We do have great success.
Congratulations
To teacher Jamie Williams at Bryn Celynnog School and his team of pupils who have won the prestigious Penarth Downhill 'Under 12 Years' event for the fourth year in a row.
We now have a full team of under 12 engineers and drivers for the fourth year who have achieved. A STEM project to be proud of.
We will put more photos of the event when they become available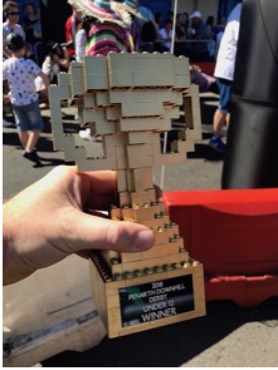 Formula Gravity Race Results
We took our racer to the great Stoke on Trent event. Our result was not as good as the Bryn Celynnog School.
We had two runs. The first was a test run which was good and then for the real run against the clock. I reckoned that we had a chance of doing really well. The run felt fast and the racer performed very well. On the finish line I was hopeful. I was then told of a problem, the timekeeper, who was also a helpful policeman, had had to leave and deliver a baby amongst the spectators. So no result. The course had been changed so no re-run.
Despite our result it was a great day and we did have a good event with lots of friends.
Our other events at Penn House were not interrupted and we were happy with our performance.
So far this year we have had another successful design, build and race season. With the new academic term starting soon we have kits and parts ready to go.
Help & Support
For any help and advice please contact myself or for sales please contact Luke at
Technology Supplies 0845 567 0000
Unsubscribe
If you no longer wish to receive a newsletter and be deleted from our records please use the Contact Form
here
and write 'unsubscribe'.
If you wish to remain on the newsletter list please use the Contact Form
here
and write' remain'.
April 2018

Since Formula Gravity first started in 2002 the gravity-racing scene has really taken off.
I think that the input of excellence set up at the Goodwood Festival of Speed was certainly a huge catalyst. The amazing racers that I first saw racing under incredible tight scrutineering and engineering criteria were to fire the imagination. This helped to kick start the sport and helped allied gravity sports to come into the sporting arena.
To sum this up, is it not time that some of the gravity sports were officially recognised for funding and also Olympic consideration? Skiing and bob sleigh are gravity sports. What is the difference if other vehicles of equal engineering and riding / driving skills are used?
Events

Lots of events now all over the UK. Events are good as they give teams all the local contacts and also you know what you need to build to race.
For events the best lists are on
http://scottishcarties.org.uk
. I have found other event sites, but this one does seem the best. Not all local events are nationally advertised so it is still worth looking locally.
Do check your events early as some events are just for speed and others have obstacles' such as those in the Red Bull events. You might need to design differently.
(We got caught out last year and demolished an obstacle or two. Great fun though)
Sales

We do have racer kits on the shelves ready to go. Just your own bodywork needed.
(We did have one of our racers win an event last year just as the kit skeleton. So you can always put a body on later!)
We do of course sell just parts if that is what you need.
https://www.technologysupplies.co.uk
is the sales team, or you can always chat to me first about the project and I can then put you in touch.
For more ideas and information about how the project can be developed and used in education please look at our website which gives initial ideas and information. If you then wish you can call and chat over the ideas - 01284 830428
Other Things You May Like

You might like to check these out faster things.
Project 'Bloodhound SSC'
www.bloodhoundssc.com
1000mph for Britain
Project Aussie Invader
http://aussieinvader.com/the-challenge/
1000 mph for Australia
Yes, we do seem to have a challenge! Some good info on the websites for pupils.
Last But Not Least
If you no longer wish to receive a newsletter and be deleted from our records please write 'unsubscribe' and reply to this email address. If you wish to remain on the newsletter list please email 'remain' and reply.